Licensed | Insured | Credentialed
When you have a roof issue and a complete roof that costs many of thousands of dollars is not in the budget call us!
Residential Shingle and Commercial Flats we repair them all.
We do not do complete roof replacement only roof repair.
Give us a call or sign up right here online on the contact us page we return email's promptly.
To repair your roof it starts with a inspection
We charge $75.00 to come out and inspect your roof. If you use us for the recommended repairs we take the $75.00 off the repair bill.
About us
////////
Our goal is to provide homeowners like you a honest assessment of your roof condition and options on what we can do when complete roof replacement is not in the budget.
Our desire to be very complete in analyzing your specific needs and recommending the very best roofing solution for your home.
We been serving the Mid-Michigan-South East Michigan area for over 25 years giving customers a peace of mind. Our standard's of workmanship and knowledge helps us gain an edge over less quality-conscious companies.
We here at Guns & Hoses are dedicated to our trade. You can be assured that we only use the highest quality materials that are available today. We know that knowledge is the difference and here is some of our credentials:
Master Shingler Applicator
Ventilation Specialist
Quality Master
CertainTeed credentialed contractor
You can be assured that our components and designs will meet your performance and aesthetics.
Call Today and Receive a Roof Inspection Within 24 Hours.


1965 Beechmont Street Suite 322
Keego Harbor, MI. 48320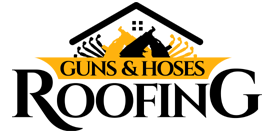 References Available Upon Request.
Michigan License I.D. NO. 2103154739
Frequently Asked Question
We strictly do roofing repairs only. Call us we do charge $75.00 to come inspect your roof if you use us for recommended repairs we take it off the repair bill.
What we do exactly?
We strictly do roof repairs and maintenance. That means no we do not do complete roof replacement. We do stuff like fix roof leaks and missing shingles and other roof issues that homes have. In that winter time we do roof top snow removal and treat ice dams as Michigan winters can cause havoc of roofs.
So reason to call us would be you have a current roof issue that needs fixed immediately or you wanna do preventative maintenance on your roof and have us come out and look at things to check for potential issues. All roofs require maintenance you should get your roof looked at every couple of years. Even if your not seeing water pouring in does not mean the roof is not leaking.
Reasons to not call us would be your looking for a complete new roof we don't offer that service we specialize in roofing repairs and maintenance to your existing roof.
Why choose us in 2023?
Let's face it prices are sky high on everything a new roof that costs many of thousands might not be in your budget right now but you have a roof issue that needs fixed immediately. That's why you would choose us because you want the best to resolve your issue with no gimmicks, no games, no selling you on anything but what needs fixed!
When will the work start and be completed?
Work start and completion dates are estimates. The project duration should be firm (plus or minus a day or so), subject to the scope or nature of the project changing from the original agreement. The element of bad weather must be taken into account in holding grim to start to completion dates.
What does inadequate ventilation cause?
Inadequate ventilation is a major cause of warranty disputes. It is vital that every homeowner understands that all manufacturers require that FHA minimum property standards for ventilation be observed. This is because poor ventilation has been proven to increase attic temperature substantially in the summer months, promotive ice dam information at the eaves of the roof in the winter in the presence of snow, and increase the chance of condensation that can cause deck movement or deterioration. These conditions can cause premature shingle aging and perhaps leaks. Older homes are seldom ventilated to the FHA standards. Manufacturers will reject claims for problems that can be traced to inadequate ventilation.
How does the process work is it that easy?
We are #1 in roof repairs we make the process very easy for you. Starts with you wanting the best and when you decide that pick up the phone and call us. Once you do that tell us a little bit about your issue over the phone. We will then ask a few questions and make sure we are a good fit for your issue. If you have a good ideal what's wrong most of the time we can give you a pretty good ball park price over the phone.
So again some homeowners know and can tell us others don't and will say they just know they have a leak for instance. Ok that's fine any details you have help us. So at that point if we think we are a good fit for your project we can make a appointment. Yes we do charge a inspection fee of $75 to come out access the roof and let you know what we recommend. But you only get charged the $75 if you decline our recommended repairs at that time. If you use us for the repairs at the same time we don't charge the inspection fee.
That's the process it's very simple we don't mess around with gimmicks we offer old school straight forward trust and that's hard to find these days. So pick up the phone and call us today and make the right choice our reviews say it all.
Do you offer any warranty on just a roof repair?
No we do not warranty roof repairs. We simply cannot put our reputation on old roofing and other companies work just for coming out a doing a small repair on your home. But our honest approach, name, reputation and references speak for themselves about our work. When you call us out we give you a detailed description of what to expect on your home and repair.
Can I just do a roof repair?
Roof repairs are generally done to by you more time to save up for a complete roof job. When we come out to look at your roof we will tell you what we think about the condition. Most of the time when your roof starts to leaks its starting to show its age and time to start thinking about a new roof. Roofs are very expensive and when a complete roof is not in the budget just yet this is where a roof repair comes in to try and by you more time.
What makes your company different than the others?
We strive for customer satisfaction. We arrive on time to are appointments. We offer fast friendly service. We do what we say we are going to do. We are credentialed and stay up on the latest roofing products. We give you options on your roofing and fully explain them to you. We treat your home like our home.
Do you offer to beat any price like other contractors?
No. We have one price and that's the one we will give you the first time. We see some shady contractors out there that advertise to beat any deals. Usually when this happens they are cheating you out of something or cutting corners or just plain their work shows low quality.
Are your prices fair?
Yes our prices are very fair. We offer competitive prices for excellent work!
What type of customers do you look for?
Just like you are seeking a good contractor we are seeking good customers. We sell quality not price. If a roof is just a roof to you then odds are any roofer will do. But If you want a company that pays attention to detail then give us a call.
How do you work payments?
Most of the time unless you have a larger project say over $1000 we don't ask for any money up front. We get paid in full after we complete the project. We do not finance. We accept Check/Cash